HOLONET SPECIAL RECENTLY AIRED ABOUT CALAMARI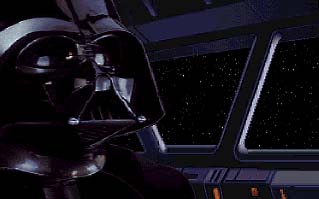 The Dark Lord meditates alone on
the Bridge of the Executor...
(photo: TREYNARD, 1/95)
Due to significantly lower recruitment rates and loss of its honored Wing Commander, General Zach Slaton, Lord Vader has been considering decommissioning of the Executor Wing. Not only has the Executor Wing, once the pride of the Imperial Navy, suffered personnel shortages, but is also manned with fighters of the older TIE Interceptor, TIE Bomber and Assault Gunboat designs. Consequently, it is rumored that Lord Vader has been considering replacement of this unit with a more advanced TIE Fighter Strike Wing.
Considering the Emperorís Hammer recent outstanding success on its first few missions, the Hammer would be a logical replacement. In addition, the fighters already in use by the Emperorís Hammer are the most advanced in the Empire (TIE Defenders and Missile Boats). Also, the 72 Members of the Wing are hand picked from among the best applicants across the Empire, and are generally considered the best TIE pilots in the Imperial Navy.
It should also be noted that there are several conflicting rumors from anonymous sources that Emperor Palpatine is considering re-assignment of the Emperorís Hammer to one of the three proposed Executor Class Super Star Destroyers, destined to become sister ships to the Executor.
More details shall be posted in future Newsletters as they become available to the Office of the Wing Commander.
ISD AVENGER UNDERGOES RESUPPLY AT PLATFORM D-34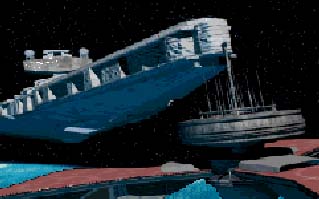 ISD Avenger docked at Platform D-34...
(photo: TREYNARD, 1/95)
The ISD Avenger docked at Platform D-34 in the Outer Rim Sector yesterday for resupply and completion of recruitment. Additional fighters, spare parts, maintenance personnel, etc. are being received by the Avenger over the next one to two weeks.