PLOTLINE FOR Strike at Calamari BATTLE ANNOUNCED!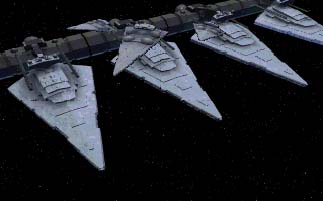 Three Interdictor Cruisers leaving Space Dock
to join Lord Vader's Task Force...four recently
commissioned ISDs are still docked and awaiting orders...
(photo: Zach Slaton, 10/94)

The following preliminary storyline has been proposed by Lambda III Flight Leader, General Andrew (Barnacleez) and has been approved for further development by the Wing Commander:
STRIKE AT CALAMARI
The Emperor's Hammer will strike the Mon Calamari ShipYards! After analyzing the situation, Grand Admiral Thrawn has determined that the shipyards of the Mon Calamari are the source of an ever increasing problem for the Empire. The construction of Mon Calamari Cruisers has gone on, unabated, for much too long. These vessels, while inferior to our mighty Star Destroyers, pose a significant threat to the peace loving citizens of the Empire. Thrawn has petitioned the Emperor to allow him to use the Emperor's Hammer to crush this ever increasing Rebel menace.
Proposed Combat Plan
1) Recon: TD's from Delta Squadron will knock out long range sensor probes in the vicinity of the Mon Calamari Shipyards. There will also be some Rebel craft patrolling the area.
2) Strike/Attack: Elements from Beta Squadron will knock out all fighter and starship defenses protecting the shipyard facilities.
3) Strike: Epsilon and Lambda Squadrons will attack some of the space-based facilities.
4) Defense support: Flights from Alpha Squadron must defend 'rear units' (supply vessels, etc.) from sneak attack by Rebel marauders.
5) Defense: Gamma Squadron will defend an Interdictor from Rebel fighters, desperate to give fleeing vessels a chance to escape.
6) Strike/Attack: Evacuating Rebels will be attacked before they flee. We will attempt to thwart their plans of escaping with any remaining equipment and supplies.
For the glory of the Empire....
Flight Leader Andrew Lambda III
Wing Commander's Note:
Mission 1 of Battle 2 - "Strike at Calamari" has been preliminarily reviewed by the Wing Commander and the following score is posted...

Mission 1



1/26/95 (Hard)

34,513 pts

All Primary Goals

All Secondary Goals

1 of 3 Bonus Goals

Kills:

  4 A-Wings

  3 Escort Shuttles (E/S)

  1 Scout Craft (SCT)

  62 Objects
It should be noted that the above kills may be much lower than other pilots since General Ronin prefers to utilize the Ion Cannon to disable his opponents and kill them later...In addition, final approval and possible Medal of Tactics award for this mission is pending comment from the other Squadron Commanders...
General Ronin
WING COMMANDER ANNOUNCES SPECIAL MEDAL!
The Office of the Wing Commander herein posts the new Medal of Tactics to be awarded to exceptional tacticians within the Emperor's Hammer ranks. This Medal, as with all others, can only be awarded by the Wing Commander. It will be awarded to pilots for the successful creation of a mission which has been approved by the Wing Commander for general distribution to Members of the Hammer. For each additional mission, a green "hammer" (i.e. "cluster") will be awarded. In addition, the design and creation of an entire Battle of missions will earn the recipient a red "hammer".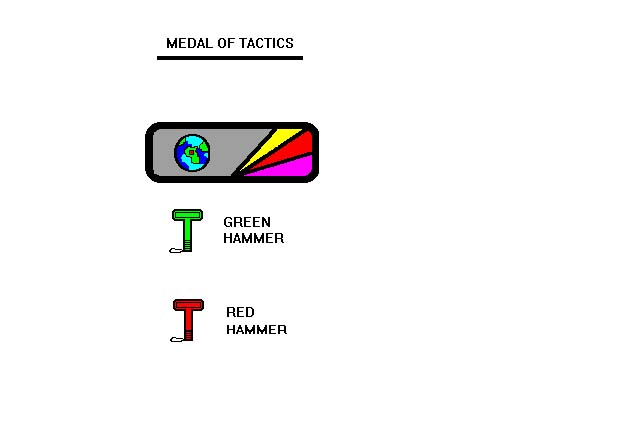 The Medal of Tactics was created recently by Grand Admiral Thrawn to reward special service in the strategic aspects of Imperial Naval warfare. Previously, medals gained for prowess in tactics were awarded only to unit commanders who participated in the particular battle. However, with the advent of new strategic computer hardware and software, a combat plan (program) can be developed and downloaded to a member pilot's flight computer to coordinate his actions with the other pilots. Thus eliminating most of the need for a human commander directing every movement of the individual units in his command. The result has been a much more coordinated integration of fighter and unit movements over the course of an engagement. Consequently, Grand Admiral Thrawn has realized that the developers of these programs (missions), generally outstanding command officers in their own right, can often play the decisive role in Imperial victories and should be rewarded for successful mission programs even if they do not personally enter the combat. Consequently, the Medal of Tactics and associated "hammers" were recently posted as official Medals of the Empire and approved as such by the Emperor.
A Member does not have to actually edit missions to receive recognition. The creation of a Wing Commander approved Battle plotline will result in the award of a Commendation of Service (cmd-svc.bpm) to the recipient. It should be noted that ANY Member of the Wing can be awarded this Commendation.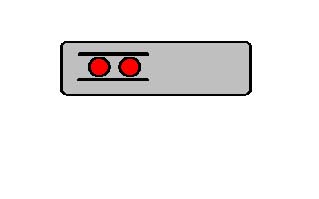 Wing Commander's Note:
The following recipients of the Medal of Tactics and Commendation of Service are herein posted:

	General Cli4ford (Delta Commander):  Medal of Tactics

	General Shawshank (Gamma Commander): Medal of Tactics, Commendation of Service

	General Andrew (Lambda III Flight Leader):  Commendation of Service