THE EMPEROR'S HAMMER STRIKE FLEET
NEWSLETTER NO. 15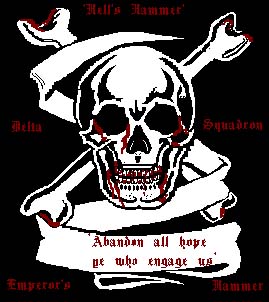 Delta Squadron Banner
(E-Mailed by Thrawn 96)
NEWSLETTER FORMAT
All Newsletters are being distributed in Object Packager format. Simply double-click on a specific icon to access the information contained therein. Any questions regarding the format and use of the interactive Newsletters should be directed to the Office of the Wing Commander @ W Call.
EMPEROR'S HAMMER BYLAWS AND AMERICA ONLINE STRUCTURE
Due to the operating environment in which we find ourselves, there are some rules and regulations as well as a chain of command for Members of the Emperor's Hammer to follow when dealing with AOL...All Members of the Hammer shall conform to the information contained herein...

TRAINING CENTER
The Wing Commander herein presents a Section of the Newsletter dedicated to the Trainees in the Emperor's Hammer. The Training Center details all Command Officer, Support Staff, Line Officer and Advisory Position descriptions, Squadron Objectives, Entrance Requirements and ID Lines. In addition, this Section will be used for postings by the Flight or Training Officers or a designated Member of the Flight Staff.

AVENGER CONCOURSE BULLETIN BOARD
The following presents articles and items of interest from all over the Empire, as published on the Imperial Holonet.

OFFICE OF THE WING COMMANDER
Admiral Ronin has gathered articles and submissions regarding development of the Emperor's Hammer. These include new Medals, Wing events, new missions, Battle Plotlines, etc. The Wing Commander wishes to emphasize that all development proposals for the Emperor's Hammer MUST be approved by the Wing Commander prior to release to the rest of the Wing.

SQUADRON READY ROOM
The Squadron Ready Room posts the Battle Board, a chronological listing of all new Battles/Missions approved for use with the Emperor's Hammer. This also includes individual mission statuses, designer and high scoring pilot. In addition, the Mission Control Center is included in this Section to provide direction on copying and playing the new missions as well as a recommended directory tree to store and organize the new missions.

OFFICER'S DECK
The Office of the Wing Commander has released the following submissions by Officers of the Emperor's Hammer:

AVENGER CANTINA
The Office of the Wing commander herein posts comments, scores, etc. submitted by the Flight Leaders and Flight Members of the Emperor's Hammer. This area is restricted to submission from the Flight Leaders and Members. Squadron Commanders are asked to place their submissions in the Ready Room or Officer's Deck Areas for Wing review.

GENERAL PILOT ROSTER
The Office of the Wing Commander herein posts the offical General Pilot Roster for the Emperor's Hammer.

MEDAL BOARD
The Wing Commander, in recognition of the many efforts and contributions of the Emperor's Hammer Members, herein presents the Medal Board for the Wing...

ATTACHED FILES SUMMARY
The Office of the Wing Commander herein posts a listing description of all files attached to this Newsletter: